A liquid biopsy that measures treatment response up to 8 weeks before a routine radiographic assessment.1
>50% reduction in ctDNA is associated with significantly longer progression-free
survival (PFS).1,2
For patients with
advanced-stage cancer.1

Reduce ambiguity
between progression and
pseudo-progression.2

Results in under
2 weeks.
Assess response to therapy 4-10
weeks after treatment initiation.3
Molecular responders had significantly longer
PFS vs non-responders.1
On-treatment ctDNA dynamics are:
an early predictor of long-term
benefits of therapy1

complementary to standard imaging1
PFS by Cancer Type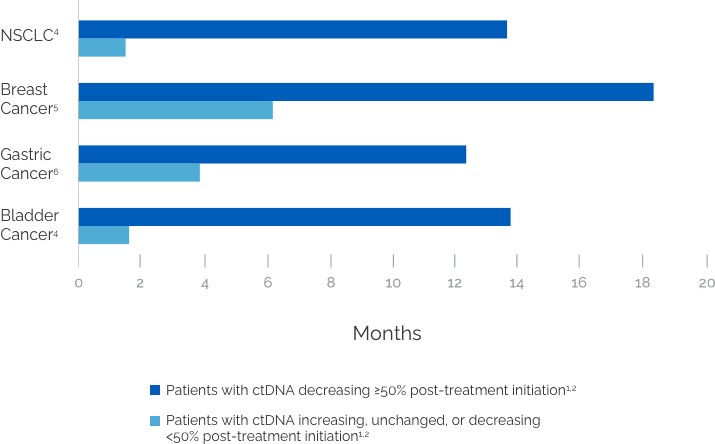 Predict treatment response 8 weeks
before standard imaging.2
Comprehensive support
across the cancer continuum.
Guardant Portal

Easy access to test ordering and
management with simple order forms.

Clear, concise reports.

Sign in now

›

Easy and Convenient Sample Collection
Important Note: The Guardant360 Response and Guardant360 tests were developed, and its performance characteristics determined, by the Guardant Health Clinical Laboratory in Redwood City, CA, USA, which is certified under the Clinical Laboratory Improvement Amendments of 1988 (CLIA) as qualified to perform high-complexity clinical testing. Guardant360 Response refers to Guardant360 Response Laboratory Developed Test (LDT) and Guardant360 refers to the Guardant360 LDT. These tests have not been cleared or approved by the US FDA. Guardant360 CDx is not approved by the US FDA to assess treatment response or long-term survival.
*Samples submitted >20 weeks after the baseline blood draw will not be accepted.
For a full list of diagnoses, download the Controlled Language for Diagnosis page.
References: 1.
Zhang Q, Luo J, Wu S, et al. Prognostic and predictive impact of circulating tumor DNA in patients with advanced cancers treated with immune checkpoint blockade.
Cancer Discov
. 2020;10(12):1842-1853. doi:10.1158/2159-8290.CD-20-0047
2.
Thompson JC, Carpenter EL, Silva BA, et al. Serial monitoring of circulating tumor DNA by next-generation gene sequencing as a biomarker of response and survival in patients with advanced NSCLC receiving pembrolizumab-based therapy.
JCO Precis Oncol
. 2021;5:510-524. doi:10.1200/PO.20.
00321
3.
Guardant360
®
Response: Guide to ordering Guardant360 Response. Guardant Health, Inc. Palo Alto, CA.
4.
Raja R, Kuziora M, Brohawn PZ, et al. Early reduction in ctDNA predicts survival in patients with lung and bladder cancer treated with durvalumab.
Clin Cancer Res
. 2018;24(24):
6212-6222
. doi:10.1158/1078-0432.CCR-18-0386
5.
Modi S, Andre F, Krop IE, et al. Trastuzumab deruxtecan for HER2-positive metastatic breast cancer: DESTINY-Breast01 subgroup analysis. ASCO Annual Meeting. 2020. doi/abs/10.1200/JCO.2020.38.15
_suppl.1036
6.
Maron SB, Chatila WK, Millang BM, et al. Pembrolizumab with trastuzumab and chemotherapy (PTC) in HER2-positive metastatic esophagogastric cancer (mEG): plasma and tumor-based biomarker analysis.
J Clin Oncol
. 2020;38(suppl 15):4559. doi:10.1200/JCO.2020.38.15_suppl.4559