Guardant360®
A comprehensive liquid biopsy
that
identifies actionable
biomarkers to guide therapeutic decision-making.1,2
Liquid comprehensive genomic profiling (CGP) informs treatment decisions in 18 days vs 31 days with tissue testing2,3*
*Non-small cell lung cancer patients who are negative from a plasma specimen for EGFR exon 19 deletions, L858R, T790M, EGFR exon 20 insertions, ERBB2/HER2 activating mutations, and KRAS G12C should be reflexed to tissue biopsy testing using an FDA-approved tumor tissue test, if feasible.4 Note that "tissue CGP," known as Guardant360 TissueNextTM, and "liquid CGP," known as Guardant360, have not been cleared or approved by the FDA. For the complete intended use statement including companion diagnostic indications, please see Guardant360 CDx Technical Information: Guardant360CDx.com/technicalinfo.
Important Note: The Guardant360 test was developed, and its performance characteristics determined, by the Guardant Health Clinical Laboratory in Redwood City, CA, USA, which is certified under the Clinical Laboratory Improvement Amendments of 1988 (CLIA) as qualified to perform high-complexity clinical testing. Guardant360 refers to Guardant360 Laboratory Developed Test (LDT). This test has not been cleared or approved by the US FDA.
For patients with advanced-stage cancer, especially those who have progressed on therapy.1

Detects an expanded panel
of biomarkers, including:

Tumor mutation burden (TMB)5

Microsatellite instability-high status (MSI)1

Expanded homologous recombinational repair (HRR) gene set6

Coverage of neurotrophic tyrosine receptor kinase (NTRK) fusions7

Get test results in 10 days.
An expanded panel of biomarkers
Guardant360 covers 83 genes, including these genes from the Guardant360® CDx panel: TMB, MSI, and HRR. Guardant360 CDx is approved for
55 genes.
4,5
Guardant360 Panel1,7
Guardant360 Panel1,7
AKT1
FGFR2
NOTCH1
ALK
FGFR3
NPM1
APC
GATA3
NRAS
AR
GNA11
NTRK1
ARAF
GNAQ
NTRK2
ARID1A
GNAS
NTRK3
ATM
HNF1A
PALB2
BRAF
HRAS
PDGFRA
BRCA1
IDH1
PIK3CA
BRCA2
IDH2
PMS2
CCND1
JAK2
PTEN
CCND2
JAK3
PTPN11
CCNE1
KEAP1
RAD51D
CDH1
KIT
RAF1
CDK12
KRAS
RB1
CDK4
MAP2K1
RET
CDK6
MAP2K2
RHEB
CDKN2A
MAPK1
RHOA
CHEK2
MAPK3
RIT1
CTNNB1
MET
ROS1
DDR2
MLH1
SMAD4
EGFR
MPL
SMO
ERBB2
MSH2
STK11
ESR1
MSH6
TERT
EZH2
MTOR
TP53
FANCA
MYC
TSC1
FBXW7
NF1
VHL
FGFR1
NFE2L2
AKT1
CCND1
DDR2
GATA3
KEAP1
MSH2
NTRK2
RB1
TP53
ALK
CCND2
EGFR
GNA11
KIT
MSH6
NTRK3
RET
TSC1
APC
CCNE1
ERBB2
GNAQ
KRAS
MTOR
PALB2
RHEB
VHL
AR
CDH1
ESR1
GNAS
MAP2K1
MYC
PDGFRA
RHOA
ARAF
CDK12
EZH2
HNF1A
MAP2K2
NF1
PIK3CA
RIT1
ARID1A
CDK4
FANCA
HRAS
MAPK1
NFE2L2
PMS2
ROS1
ATM
CDK6
FBXW7
IDH1
MAPK3
NOTCH1
PTEN
SMAD4
BRAF
CDKN2A
FGFR1
IDH2
MET
NPM1
PTPN11
SMO
BRCA1
CHEK2
FGFR2
JAK2
MLH1
NRAS
RAD51D
STK11
BRCA2
CTNNB1
FGFR3
JAK3
MPL
NTRK1
RAF1
TERT
Liquid comprehensive genomic profiling (CGP) provides guideline-complete genotyping more often than tissue-only testing.2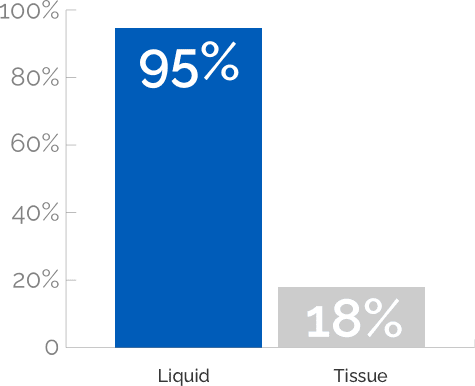 Resulted in guideline-complete genotyping in 95% of patients, compared with 18% in patients with tissue genotyping alone (n=268 for ctDNA arm; n=51 for tissue arm)2
Liquid CGP informs
treatment decisions sooner than tissue testing.3
vs
Patients tested with Guardant360
initiated targeted therapy
approximately 18 days following testing, compared with 31 days for those who underwent tissue biopsies. All patients responded to targeted
therapy similarly regardless of biopsy type.3
Treatment response results are comparable between liquid CGP and tissue testing.8
PFS rates in patients receiving
targeted therapy,
based on results from tissue vs ctDNA
testing8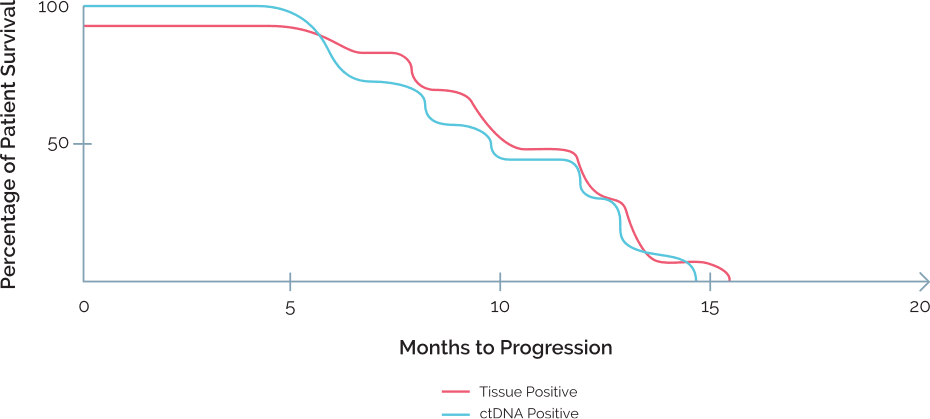 Comprehensive support
across the cancer continuum.
Covered by Medicare

Guardant Portal

Easy access to test ordering and
management with simple order forms.

Clear, concise reports.

Sign in now ›

Easy and convenient sample collection
References: 1.
Guardant360
®
Assay Specifications. Guardant Health, Inc. Palo Alto, CA.
2.
Leighl NB, Page RD, Raymond VM, et al. Clinical utility of comprehensive cell-free DNA analysis to identify genomic biomarkers in patients with newly diagnosed metastatic non-small cell lung cancer.
Clin Cancer Res
. 2019;25(15):
4691-4700
. doi:10.1158/1078-0432.CCR-19-0624
3.
Page RD, Drusbosky LM, Dada H, et al. Clinical outcomes for plasma-based comprehensive genomic profiling versus standard-of-care tissue testing in advanced non-small cell lung cancer.
Clin Lung Cancer
. 2022;23(1):72-81. doi:10.1016/j.cllc.2021.10.001
4.
Guardant360 CDx Technical Information. Guardant Health, Inc. Palo Alto, CA. July 2021.
5.
Guardant360. National Library of Medicine. Bethesda, MD. August 2021.
6.
Heeke AL, Pishvaian MJ, Lynce F, et al. Prevalence of homologous recombination-related gene mutations across multiple cancer types.
JCO Precis Oncol
. 2018;2:1-13. doi:10.1200/PO.17.00286
7.
Guardant360 Gene Pocket Guide. Guardant Health, Inc. Palo Alto, CA.
8.
Palmero R, Taus A, Viteri S, et al. Biomarker discovery and outcomes for comprehensive cell-free circulating tumor DNA versus standard-of-care tissue testing in advanced non-small-cell lung cancer.
JCO Precis Oncol
. 2021;5:93-102. doi:10.1200/PO.20.00241